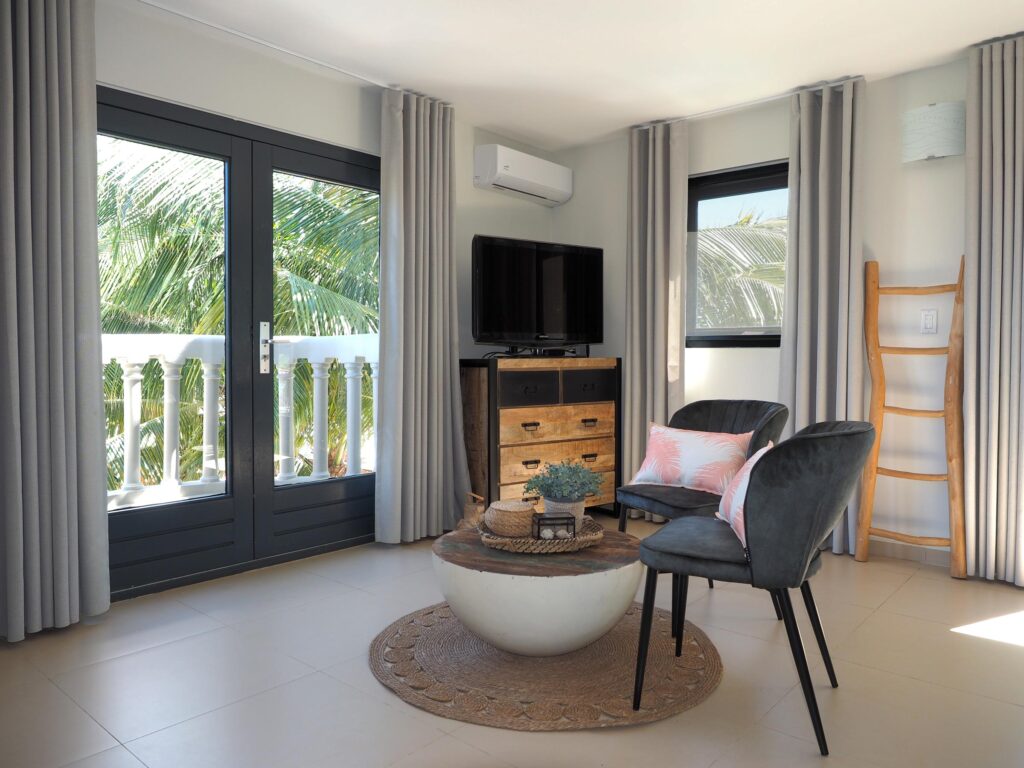 Bon Bini Na
Oasis Guesthouse Bonaire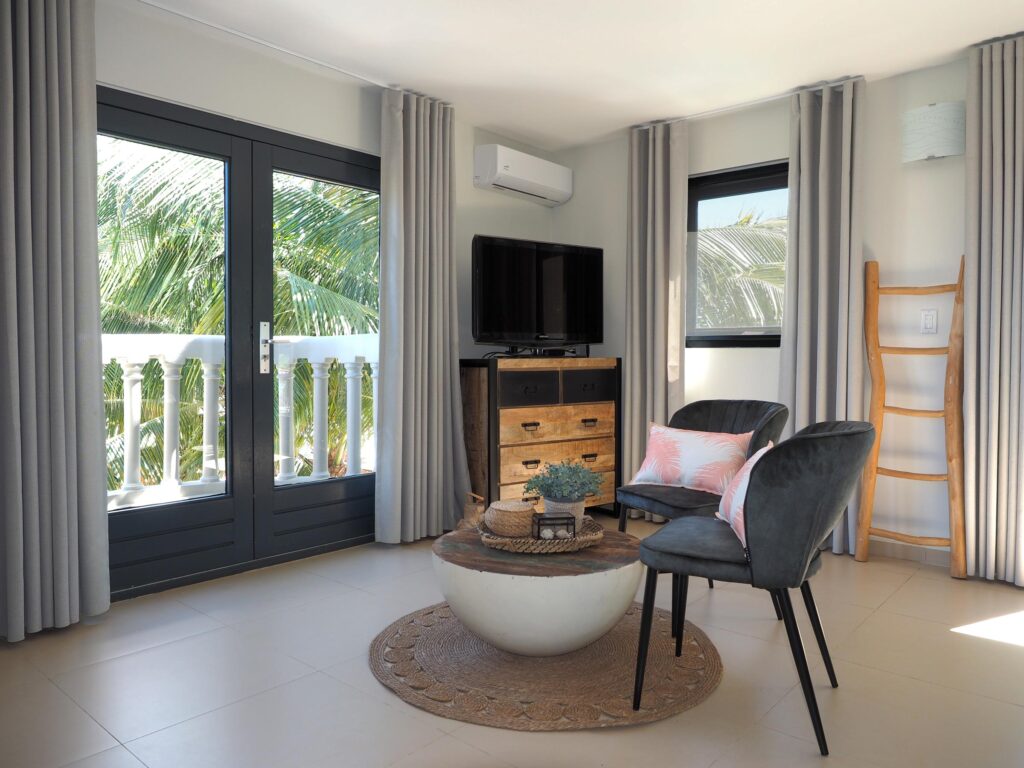 Bon Bini Na
Oasis Guesthouse Bonaire
A Luxury Boutique Guesthouse
Oasis Guesthouse Bonaire is a modern boutique style Guesthouse, hotel on Bonaire, situated in the area Belnem, the South part of the Island.
Oasis has comfortable luxury one- & two-bedroom suites with boxspring beds, air-conditioning and private ensuite bathroom.
The heart of Oasis is formed by the communal kitchen and the tropical garden. The place to meet other guests.
The communal kitchen is for our guests. The kitchen is equipped with everything you need to make your own meals. In our tropical garden with pool you can relax with a nice cold drink after a day full of activities.
Affordable Price Guarantee
To give you already a bit of a holiday feeling while you are making your reservation, we offer you some extra's, especially when you book your stay on our website!
Perfect Location
Oasis Guesthouse Bonaire has the perfect location! Super central situated for every activity or if you like to go to the centre.
It is only a few minutes away from:
Plan Your Dive, Kitesurf or Windsurf Trip
Check Availability
Ready to book your stay!
Check the availability and make your reservation in our online reservation tool.
Paradise is waiting.
Any Questions?
If you have any questions, check our FAQ first, your answer might be there. If not, go to the contact page and send us a message and we will come back to you.
Sit Back & Relax
Once you have booked your stay at Oasis Guesthouse Bonaire, you only have to pack your bag and take your flight to paradise!
See you soon.
What Our Customers Are Saying
Verified
Gemütlicher Urlaub
Surenda
13. September, 2023
Verified
Wonderful
Priantha
10. September, 2023
Verified
Nooit meer naar huis ☺Alles was top, wat je verwacht en dan meer. Locatie top, kamer top, personeel top, faciliteiten top, hygiëne top. Werkelijk wil je een goed verblijf op Bonaire sla dan Oasis zeker niet over! ☹Als ik dan echt iets moet verzinnen miste ik een kapstokhaakje in de badkamer.
Verified
perfect ☺ it was my first time on Bonaire, and i got so lucky choosing this guesthouse, it could not have been better. close but not too close from the airport (40mins walk), 5 mins away from a beach, clean and comfy room/bathroom, amazing wifi connection all around the property, big and complete shared kitchen, nice, welcoming, helpful hosts. you will need transportation to enjoy the island, better ask your hosts. ☹ ?
Verified
Excellent stay at Oasis Guesthouse ☺ Excellent breakfast which is worth every penny it but also opportunities for self catering There is the option to rent a car and dive equipment Very friendly and supportive owners ☹ Nothing 🙂
Verified
Exceptional ☺ The hosts were fantastic! We were greeted immediately at the property with a beverage 🙂 Facilities were very clean. They provide a very detailed list of house rules/accommodations that were of major help, be sure to read it if you decide to stay at this wonderful guesthouse!
Verified
heerlijk verblijf en zou zo weer terugkomen! ☺een fijne plek! heerlijk rustig met een mooie binnentuin. ook de goud uitgeruste keuken was top!
Verified
☺Zeer prettige sfeer, fijne gasten en erg aardige en betrokken eigenaars ☹Niets
Verified
Fantastisch echt een aanrader ☺Echt een aanrader! Ontzettend gastvrij ontvangst, een heerlijke kamer met een fijne tuin met zwembad en gezamenlijk gebruik van de keuken. Het ontbijt was heerlijk en de eigenaren helpen je bij alles. Alles was netjes en schoon. Ik kom zeker een keer terug ☹Niks
Verified
Oasis is een stukje paradijs op aarde! ☺De gastvrijheid van Kim en John hun behulpzaamheid en vele leuke tips!! De accommodatie en vooral de grote gezamenlijke keuken is heel erg compleet ingericht. De familiekamer is ruim heeft goede airco en fijne bedden. Het zwembad is fijn en de locatie is gunstig gelegen tav Sorobon en Kralendijk. Wij hebben onder leiding van Kim een super leuke introductieduik gedaan bij Invisibles. Kim is een goede duikinstructrice en ze hebben de nieuwste spullen. Voor ons zeker voor herhaling vatbaar!!! ☹Niets.
Carl Winter
11. September, 2023
John and Kim were great host. Gave us great ideas on things to do and where to dive. The location is close to do any dives that you want to. Neighborhood is quiet and didn't have to worry about anything. I would highly recommend them
Vozvrat Nalogov
26. August, 2023
Stayed in Oasis for two weeks this May. Briefly speaking, this is the best guesthouse, I stayed in Caribbeans so far. I went to Bonaire for diving. If you'll come to Bonnair for diving for the first time - you definitely will enjoy John's advises on diving sites and other local attractions. Most of guests at a time of my stay were nice people from Europe. All together it created an atmosphere of Good Old Europe (I like) far-far-far away from it in a shadow of palms and cacti. John, Kim, thank you very much for your hospitality. Alex (Toronto).
Sylvia Patijn
23. August, 2023
Oasis Guesthouse is run by John and Kim who are wonderful hosts and always willing to give advice on things to do on the island. They accompanied us on a number of great dives! The guesthouse is great with spacious and clean rooms with airco and comfy beds, a well equipped communal kitchen and a lovely garden with swimming pool. Room to rinse and stow your diving gear is available. We also rented a car with them, which is very convenient (incl transport from/to the airport). The Oasis Guesthouse BBQs are the best!! We will definitely be coming back to this oasis!
Jan Rozema
23. July, 2023
Heerlijk appartement, geweldig terras en zwembad. En enorm gastvrij ontvangst
Joerg Ogorka
12. July, 2023
After my 7-week stay at Oasis Guesthouse Bonaire in 2022, I again stayed in Oasis Guesthouse in 2023, this time for 8 weeks in March, April and May. Again, I enjoyed my time at this guesthouse at lot and found it to be a truly a green oasis under coco nut trees in a beautifully laid out tropical garden. The hosts, John and Kim, were very accommodating, friendly and helpful and made me feel at ease. In general, John and Kim made great efforts to make all their guests feel comfortable and happy. The guesthouse was always kept clean and in perfectly functional condition; John has always been quick in any maintenance action, if needed. My hosts also provided me, upon my request, with a large table in my room, one of the Superior Suites on the first floor, allowing me to use this suite as a remote office for my daily work every morning. My remote work was supported by a very stable and fast wireless LAN in the house, which allowed me to hold videoconferences with people in Europe and/ or US for couple of hours every day without any interruptions or any other technical problems. Every afternoon I went windsurfing in Sorobon and afterwards had a swim at Bachelor's Beach every evening before sunset and/ or enjoyed the guesthouse's nicely kept swimming pool for relaxing moments. Oasis Guesthouse has become like my second home and I look forward to many future returns there. I can really recommend Oasis Guesthouse to anybody, who looks for a relaxing vacation and quality stay in Bonaire.
Simon Wilkes
5. June, 2023
Having been to Bonaire on a few previous occasions this time I needed a base for diving in my favourite area of Belnem. The island appears to me to be becoming more corporate resort based and if this is what you want fine. BUT if you would like a base for activities and exploring what the island has to offer then this makes a superb base. Rooms are spotless and air con works well. Not sure about the communal kitchen ? Don't be it's full of proper equipment and if you want to sort a few meals yourself then it's far better than one ring and a kettle in your room which many others count as a kitchen. Kim and John the owners put the guests first and if you want a recommendation then you can trust it. I met lots of the small number of fellow guests, many of whom are returners which says a great deal. This is a local business run by hard working owners worthy of your support - you will not be disappointed. Boutique Guest house says it for me.
Wilfried Celis
4. June, 2023
Mooie, grote en verzorgde kamers. Overal toegang tot wifi. Heel vriendelijke en behulpzame eigenaars. Grote en gebruiksvriendelijke gemeenschappelijke keuken. Plaats voorzien om duikgerief te spoelen en te drogen. Een plek waar ik graag terug naartoe wil gaan. Superleuke ontspannende duikvakantie gehad!
Liliana Passowicz
29. May, 2023
Beautiful place. Great location. Very knowledgeable and helpful Owners. Overall great vibe. I really enjoy it and already visited twice (May 2022 and 2023).