Looking for a Caribbean island away from the crowds? Curious about things to do in Bonaire?
Although Bonaire might be the least known of the Dutch Caribbean ABC islands (Aruba, Bonaire, Curacao), it's world famous among scuba fans as a diver's paradise.
But there are plenty of unique activities that make Bonaire well worth visiting for non divers, too!
So read on to discover why 'OASIS GUESTHOUSE' BONAIRE




should be high on your bucket list
STAY at Oasis Guesthouse Bonaire
A Luxury Boutique style Guesthouse
Oasis Guesthouse Bonaire is a luxury Guesthouse on Bonaire, situated in the area Belnem, the South part of the Island.
Oasis has comfortable luxury one- & two-bedroom suites with boxspring beds, air-conditioning and private ensuite bathroom.
Oasis Guesthouse Bonaire has the perfect location! Super central situated for every activity or if you like to go to the centre.
It is only a few minutes away from:
– The Southern Scuba diving sites
– Windsurf Heaven Sorobon – Lac Bay
– Kiteboarding Beach Atlantis
– The beautiful snorkelling place 'The Cargill, Salt Pier'
– The centre of Kralendijk with restaurants and souvenir shops
Your Holiday Matters To Us!
Therefore, we are happy to assist you to make your Bonaire experience unforgettable!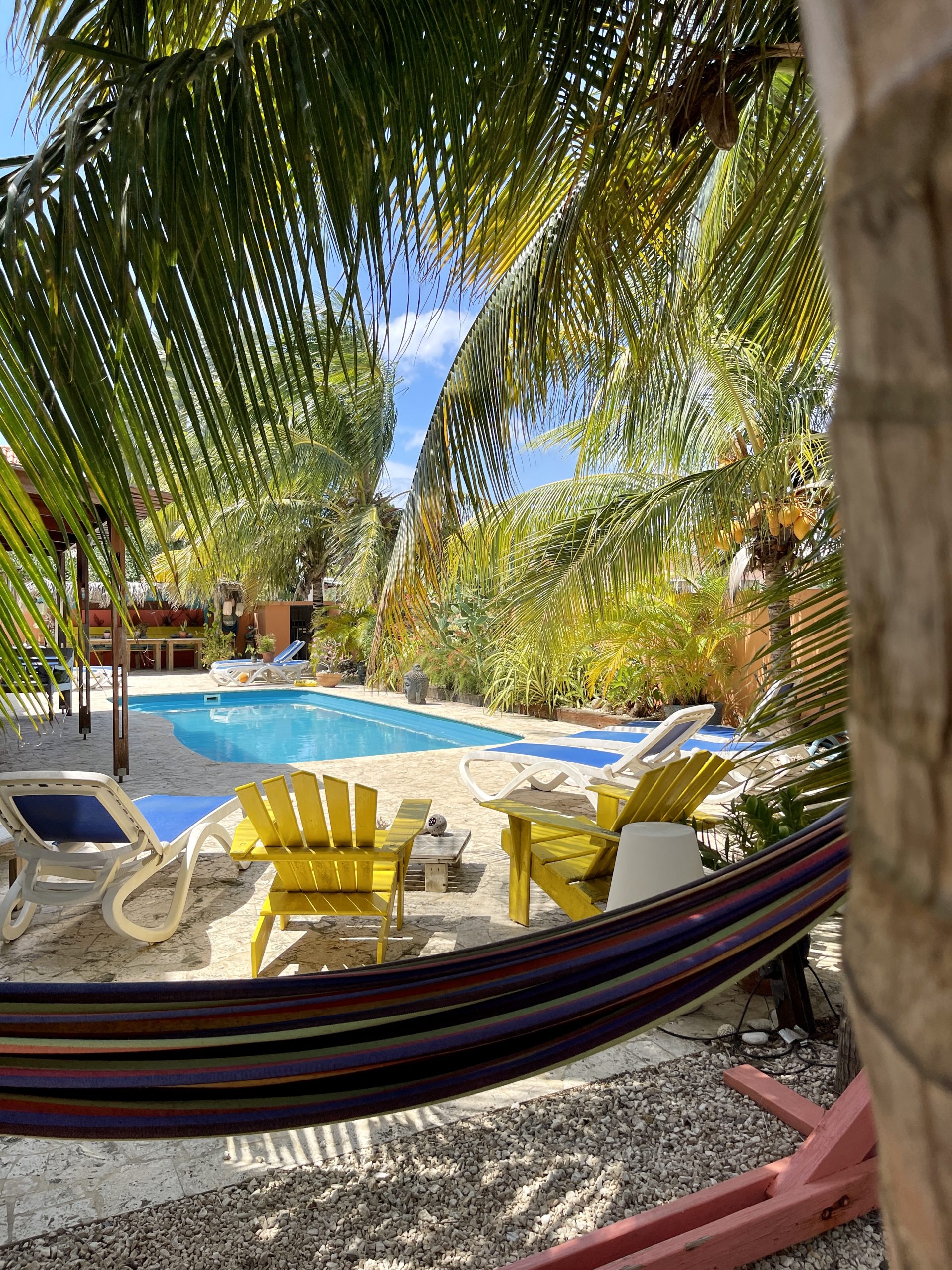 Ultimate Diver's Paradise
Bonaire is unique for its shore diving, because the reef begins a short distance from land, descending at about a 45-degree angle to about 130 feet (40 meters).
The island has more than 50 easily accessible shore diving sites, marked along roads with yellow-painted stones.

Now this island is the only certified Blue Destination in the world.

Insider's Tip: All visitors must pay a Bonaire National Marine Park fee to enter the waters.
Best places to go scuba diving
This site's easy shore entry and accessibility make it a popular destination for both new divers and underwater photographers. Underwater, the pier's pillars transform into majestic living works of art encrusted with colorful sponges and corals.
Many schools of fish around the pillars and lots of other marine life. Take also time to explore the nearby reef and you may be rewarded with an octopus, eagle ray, juvenile drumfish, or even a seahorse or frogfish
Many consider Karpata one of the best dive sites in Bonaire. It is famous for its spectacular visibility and panoramic views. this site is great for wide-angle photography. A great site to spot sea turtles!
Bachelor's Beach is a wonderful dive site for snorkeling and all diving levels, it is also a good location for night diving due to the easy entry, sloping bottom and shallow lying reef.
The sloping bottom boasts a wide variety of hard and soft coral. South from the mooring buoy you will find the 'Beyond The Corals' coral nursery that sits at 5m-8m. This nursery has 5 trees with staghorn and elkhorn fragments attached to them.
Bonaire has the perfect conditions for windsurfing
Windsurfers find a true paradise on Bonaire
Bonaire offers world class flat water, slalom and freestyle windsurf conditions. It's one of the best windsurf locations suitable for everyone, from beginner to professional, young too old.

Windsurfers from all over the world are extremely attracted to this unique location. The pleasant water temperature, the constant onshore trade winds and the lagoon is shallow are ideal combination for windsurfing. All this together ensures that Lac Bay always ends at the top in the lists of the best global windsurf spots.
The windy period is from mid December to August with winds around 15 – 20 knots.
The direction of the wind is always onshore
Windsurf schools on Bonaire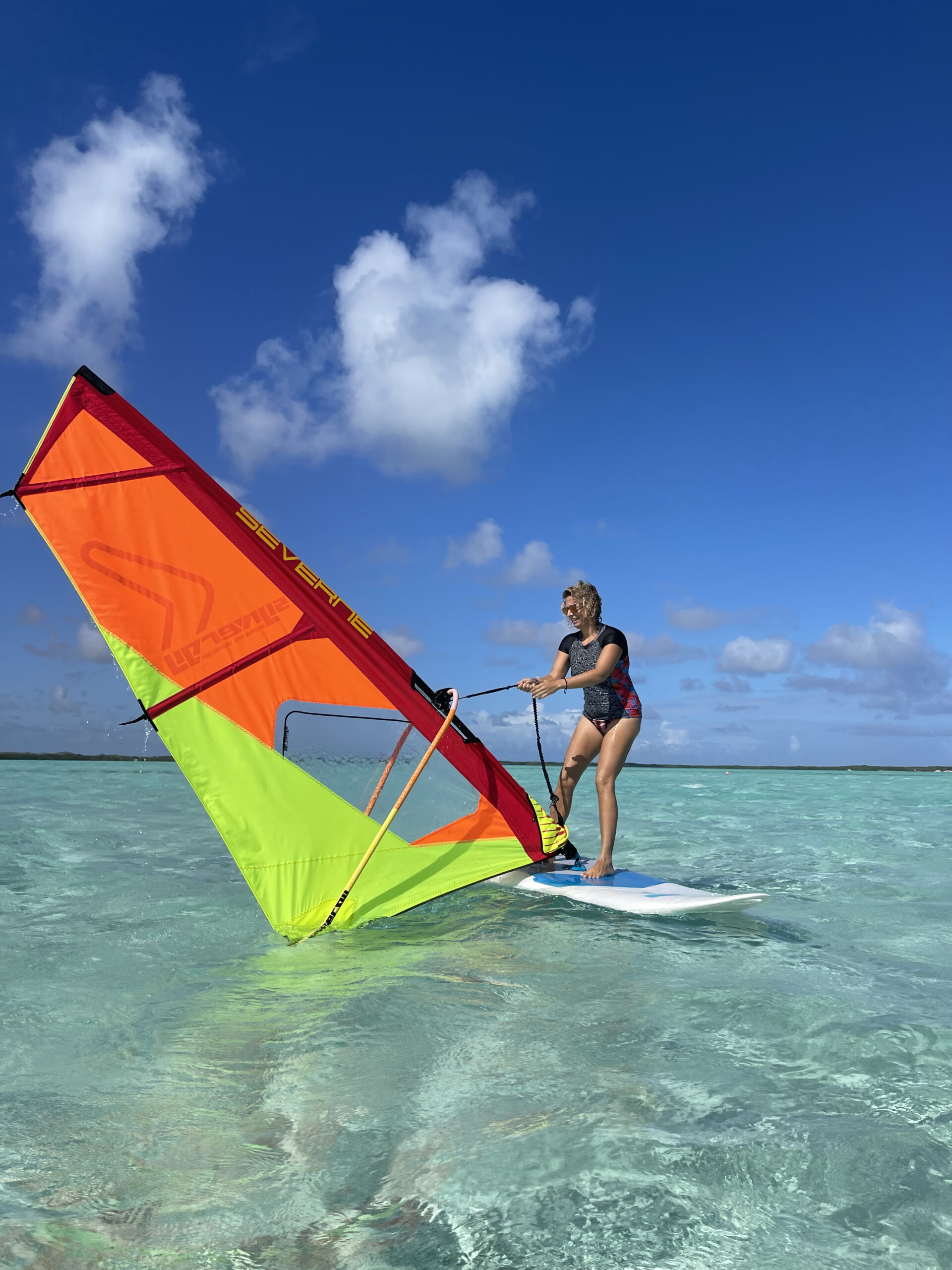 Snorkelling

, the most

incredi

ble spots
There are many shallow reefs too to explore for those who seek nice snorkeling in Bonaire. Snorkeling on Bonaire is fantastic for all levels of snorkelers.
This Caribbean island is known for its easy snorkelling places; most spots are accessible from the shore, so you can explore them on your own or by signing up for Bonaire snorkelling tours if you prefer that way.
When looking for easy snorkeling from the beach on Bonaire, Bari Reef is the spot you want to add to your places-to-visit list. With plenty of fish, eels, octopus and an abundance of corals including elkhorn, fire and also sponges.
1000 Steps is one of the top Bonaire snorkeling places if you want to swim with turtles. Usually, there are several of them around the early morning or late afternoon, a little outside the main beach area. The most beautiful part of the reef is about 70 m from the shore with healthy staghorn corals.
An excellent spot to go if you are looking for a beach that has idyllic views and good snorkeling. If you come here, it is also worth having a look at the nearby old slave houses too. (White slave)
Bonaire is an ideal kite surfing destination
Kite surfing in the most tropical part of the Netherlands
Atlantis kite beach in the south of Bonaire is one of the best kiteboarding spots in the world, and the wind has an average speed of 17-22 knots 300+ days a year.
The best wind season is between December 'til July. An average day at this spot is side-offshore wind the whole day
Learn kiteboarding at Atlantis Kite beach
There are 3 Kiteboarding schools:
Affordable Price Guarantee
To give you already a bit of a holiday feeling, we offer you some extra's, especially when you book your stay on our website!
At least 10% cheaper then when you book on Booking, Expedia, AirBnB or others
Always 5% extra discount when booking via our website
Extra Oasis Deals shown on our facebook page or Newsletter
Flexible cancellation
THE PLACE TO STAY FOR A COZY AND FRIENDLY ATMOSPHERE
Discover Colourful Downtown Kralendijk
Kralendijk is a tiny town and can easily be covered on foot. You'll discover cool stuff like colourful shops, art galleries, cafés, arcades, restaurants, bars and public squares.
E

scape to Bonaire's Best Beach on Klein Bonaire
If you're looking for a white sandy beach, head to Klein Bonaire. It's a tiny, pristine, uninhabited island a short water taxi away.
It's called "No name beach"
This is Bonaire's best beach and features soft white sand cresting clear aqua waters. Ringed with a spectacular reef full of marine life, it's a popular spot for drift snorkelling.
But be forewarned, there are no facilities and no shade. So pack your own refreshments and reef-friendly sunscreen.
See Pink Lakes & White Mountains
The south of the island of Bonaire is host to the famous salt flats & mounts.
An area where Cargill has been operating since 1997 producing some of the purest salts in the world
Using the salt, the sea and winds of Bonaire, the salt accumulated in the impressive mounds of crystals is produced.
Bonaire Salt flats is also home to the Flamingo Sanctuary a the nesting area of the flamingos, chosen by them and protected by the government.
Right in front of Bonaire Salt flats, you can find the Salt pier.
The Salt pier juts out into the Caribbean and is the point where the salt is delivered from the piles to the boats that will carry the salt around the world. Beautiful for snorkelling and scuba diving.
Once you pass the Salt flats, continue your journey to see the white slave huts, do some flamingo birdwatching
A unique activity to do on Bonaire island is tour the best-preserved mangrove forests in the Caribbean by kayak. Located at Lac Bay, this RAMSAR recognized wetland region features crystal clear waters.
There are three species of mangrove trees in Lac and as you tour the forest you will see why they are vital nursery grounds for all kinds of marine life, fish and birds. Between the mangrove forests and the barrier reef at the entrance to Lac there are large areas covered by sea grass beds. These are important habitats for juvenile reef fish, Queen Conch, rays, lobster, seahorses and a unique foraging ground for the region's juvenile Green Turtles.
At the Mangrove kayak center, The Mangrove Information Center offers visitors two options for visiting the mangroves by kayak. The Center has both single and double "sit-on-top" kayaks, which are easy to use, even for complete beginners. Additionally two-hour kayak tours give guests the opportunity to snorkel in this unique environment: a real eye opener! They supply the snorkel gear (or bring your own) but no fins are allowed.
Wild Bird Rehab
On June 1st, 2018, the Mangrove Info Center was happy to open the Wild Bird Rehab foundation on its property. The mission of this newest nature protection organisation on Bonaire is to provide a home for the island's sick or injured birds
The rehab center's new status as an official foundation makes it much easier to receive and coordinate help. Since the rehab center aims to keep all guests "wild," it is not possible to visit the center. Those interested in keeping up to date can follow activities on the center's Facebook page, where Elly posts pictures and videos.
WALK, CRAWL, SWIM, HIKE
There are many cave formations found on Bonaire. Several are readily accessible while others lie hidden and filled with water. They are a crucial part of the island's ecosystem.
Most of the caves that are open for visitors are dry caves where you can see stunning formations like stalactites and stalagmites, columns, etc. with beautiful coral imprints and other marine fossil structures. Some caves have water pools where snorkelling is possible
Caves and caverns play a very important role for the island's ecosystem since they are home for several animals like bats
When you would like to see the caves, contact us, we are happy to assist you to make book your trip
There is a lot to discover above the water
Bonaire is known for its tranquility and beautiful nature. Most hiking trails on Bonaire are well marked with pink stones
Most of the hiking trails consists of unpaved pads with loose stones. the pads are surrounded by cacti or other not so friendly vegetation. So make sure you wear good, closed walking shoes.
The best time for hiking is in the early morning or late afternoon. Don's set to late in the afternoon, you don't want strolling around after sunset!
Make sure you have enough (water) to drink and maybe something to eat for your hike! Don't forget sun protection!
Some hiking trials:
– Dos Pos in Rincon
– Montana Hiking trail Rincon
– Tras de Montaña on Seru Larg
– Roi Sango in Rincon
– Subi Brandaris
– Wayaka trail
– The Hell Trail
Nothing beats the Caribbean Sunsets!
We have to thank Mother Nature for creating our beautiful island "Dushi" Bonaire. The pristine reefs, the raw plains filled with cacti and the turquoise blue sea are some of the key reasons for tourists to return to Bonaire

But at the end of each day we are treated with an astonishing color pallet of orange, red and purple, this is clearly a gift from heaven. – SUNSET –
The best hotspots on Bonaire to enjoy the sunset:
– Ti amo Beach
– Pink Beach
– Ocean Oasis Beach bar
– Melisa sailing, Dinner at sea
– Sunset kitesurf session at Kite Beach Atlantis
– Seru Largu

Affordable Price Guarantee
To give you already a bit of a holiday feeling while you are making your reservation, we offer you some extra's, especially when you book your stay on our website!
At least 10% cheaper then when you book on Booking, Expedia, AirBnB or others
Always 5% extra discount when booking via our website
Extra Oasis Deals shown on our facebook page or Newsletter
Flexible cancellation
"Leave behind your everyday worries and plan your escape to Oasis Guesthouse Bonaire"
Your Holiday matters to us!

Therefore, we are happy to assist you to make your Bonaire experience unforgettable!
See you at Oasis Guesthouse Bonaire!